The LPT (Master) Certification Program
Penetration testing: What is it?
Exploiting known flaws in a network is a practice known as penetration testing. Since 9-11, network security has gained a lot of attention and importance, and businesses now understand how crucial it is to take precautions to make sure their network is not used as a target for cyberattacks.
Employing a penetration tester is a wise investment because cyber-attacks can cost a business millions of dollars.
After obtaining the CEH (Certified Ethical Hacker) and ECSA (EC-Council Certified Security Analyst) credentials, the Licensed Penetration Tester (LPT) certification is the next stage.
The LPT's goal is to make sure that each professional holding an EC-Council license adheres to a strong code of ethics and is informed about the best methods for penetration testing.
This exam has one purpose:
To differentiate the experts from the novices in Penetration Testing!
There are good penetration testers and then there are great penetration testers. 
Unless you are bent on being nothing other than the best in penetration testing, don't bother registering for this program as you are probably not cut out for it.
This is the first program in the world that can give you two potential outcomes in one single exam!
You might be qualified to become a Licensed Penetration Tester Master if you are one of the select few world-class experts in the field who can test some of the most secure systems on the planet. You must pass our 24-hour exam with a minimum score of 90% in order to receive the LPT (Master).
Candidates who achieve a score of more than 70% on the exam will be awarded the CPENT certification, even if they don't achieve the extremely difficult goal of 90 percent.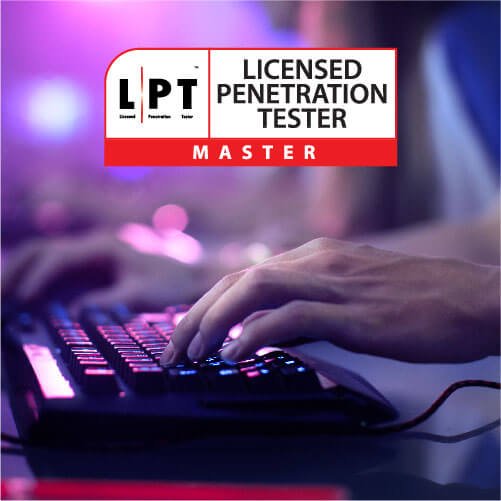 What will you learn from this course, exactly?
Enroll Now to Learn More About the Plans & Prices
The Key Features of LPT Master training
The LPT (Master) is the first fully online, remotely proctored LPT (Master) practical exam in the world.
It tests candidates' perseverance and concentration by putting them through grueling 18 hours of performance-based, hands-on exams, which are divided into three practical exams with a six-hour duration each.
Candidates must show during the exam that they have a systematic process for testing and validating security defenses.
After a thorough review of work roles, job tasks, and skills gaps, the LPT (Master) exam is created in close collaboration with SMEs and practitioners from all over the world.
Since there is no separate certification training course for LPT, after finishing ECSA in certification training courses, ECSA is the final industry certification a professional must obtain before aiming to become a Licensed Penetration Tester (LPT).
Introduction to Vulnerability Assessment and Penetration Testing

Information Gathering Methodology

Scanning and enumeration

Identify Vulnerabilities

Exploitation

Post Exploitation

Advanced Tips and Techniques

Preparing a Report

Practice Ranges
Most candidates for the Licensed Penetration Tester (LPT) certification work as penetration testers or IT security engineers.
A candidate for the LPT typically possesses additional certificates, such as:
MCSE (Microsoft Certified Solutions Expert)

(Certified Ethical Hacker)

ECSA (EC-Council Certified Security Analyst).

CCNA

CCNP

CCIE
Reasons to Learn From Us? Why is Licensed Penetration Tester the Best (MASTER)?
LPT (Master) certification professionals can:
Establish a repeatable and quantifiable methodology for penetration testing.

Perform advanced techniques and attacks to identify SQL injection, cross-site scripting (XSS), LFI, and RFI vulnerabilities in web applications.

Deliver a report that is professional, industry-accepted, and gains support from management and technical staff.

Get access to proprietary EC-Council penetration testing methodologies.

To obtain access to a weak system or program, create exploit codes.

use flaws in OS systems like Windows and Linux.

Privilege escalation must be used to get root access to a system.

Demonstrate "out-of-the-box" and "lateral" thinking.

Ensure the integrity and value of the penetration testing certification through a fully online, remotely proctored certification exam.
Enroll Now to Learn More About the Plans & Prices
EC-Council also provides training and vouchers. 
Visit the Ground Cyber website for all the details. We offer the best IT training services in the region. To address client needs, we have fresh, creative ideas. We are a reputable and expanding IT security expert. We are providing The LPT (Master) certification voucher for every student.
Frequently Asked Questions
How can I become an LPT (Licensed Penetration Tester)?
Choose your challenge! Either two 12-hour sessions or a single 24-hour exam! Cheating is prohibited. The entire exam is proctored by specialists from the EC Council. Score at least 70% and become a CPENT. Score at least 90% and earn the highly regarded LPT (Master) certification!
Why do I need a license?
Different organizations currently have qualified penetration testers. But can you believe them? Do they adhere to a code of conduct? "No," is the response. The accredited penetration testers from EC-Council are taught by professionals and specialists who are licensed penetration testers from EC-Council and apply practical penetration testing approaches.